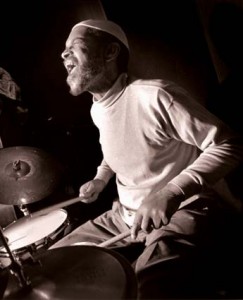 "Smiling" Billy Higgins.
On any self-respecting jazz fan's extra short-list of all-time greatest drummers. He didn't just act as the de facto session drummer for Blue Note in the '60s, he was Blue Note. Starting with Ornette Coleman as part of the greatest quartet of all time (other than the undisputed champs–The John Coltrane "Classic Quartet"), and through his untimely death in 2001, Higgins was the unadulterated go-to guy; the people's champion.
His street cred is staggering. Taken a random, here is a smattering of sessions he played on: The Shape of Jazz to Come ('59), Leapin' and Lopin' ('61), Let Freedom Ring ('62), Search for the New Land ('64), Dance With Death ('68), Footprints ('75), The Water is Wide (2000).
That last one, a Charles Lloyd recording, preceded what turned out to be his living epitaph, his two-man collaboration with Lloyd, 2001's Which Way is East. Plagued by chronic liver complications, and in need of a third transplant, Higgins understood time might be running out. Lloyd invited him out to his home, and the two of them recorded several hours worth of improvised duets. What could have been a fairly lugubrious affair (considering the circumstances) instead turned into a celebration: defying death through music, these two men–who knew each other well–open their hearts and minds and a whole history of music spills out. It is, even without any contextual underpinnings, a near miraculous achievement; considering that Higgins would pass (entirely too prematurely) about four months after this session, it is a benediction and a love note for the art form to which Higgins had wholly dedicated his life.
It is inevitably somber to reflect on the misfortune that prompted this recording, but it is nevertheless a celebration. As Higgins knew, all the magic he made would continue its enchantment long after he moved on. As always, it is our incredibly good fortune to have had him with us as long as we did, and fans of music owe Lloyd a special acknowledgment for his part in making this last, best effort a reality.